Boost Your iPhone's Performance with These Essential iOS Settings ===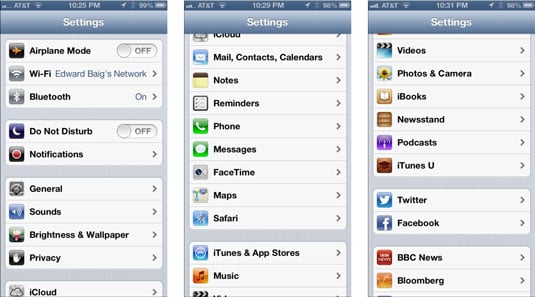 In today's fast-paced digital world, our iPhones have become an extension of ourselves. Whether we use it for work, socializing, or entertainment, we rely on our iPhones to perform at their peak. However, with time, our devices can start to slow down, leaving us frustrated and longing for better performance. Fear not, as we have compiled a list of 10 essential iOS settings that will help you maximize your iPhone's potential and bring back the lightning-fast performance you desire.
Maximize Your Device's Potential with These 10 Crucial iOS Settings
Disable Background App Refresh: By turning off Background App Refresh for apps that you don't frequently use, you can save valuable processing power and extend your battery life. Head to Settings > General > Background App Refresh and customize which apps are allowed to refresh in the background.

Clear App Cache: Over time, apps accumulate unnecessary data that can slow down your iPhone. To clear app cache, go to Settings > General > iPhone Storage, and select the app you want to clean up. Tap on "Offload App" to remove it temporarily or "Delete App" to permanently delete it along with its cache.

Reduce Motion: While the sleek animations on iOS are visually appealing, they can also consume CPU resources. To disable motion effects and increase your device's responsiveness, navigate to Settings > Accessibility > Motion > Reduce Motion and toggle it on.

Enable "Optimize iPhone Storage" for Photos: If you find your iPhone storage constantly running low, enabling this setting can be a game-changer. It automatically keeps full-resolution photos in iCloud while providing optimized versions on your device, saving you space. Open Settings > Photos > Optimize iPhone Storage.

Disable Push Email: Constantly receiving notifications for new emails can put a strain on your iPhone's battery life. Switching from Push to Fetch or Manual fetch can significantly improve performance. Go to Settings > Mail > Accounts > Fetch New Data and choose between Fetch or Manual.

Enable Wi-Fi Assist: This handy feature ensures a seamless internet experience by automatically switching to cellular data when Wi-Fi signals are weak. To enable Wi-Fi Assist, navigate to Settings > Cellular (or Mobile Data) > Wi-Fi Assist and toggle it on.

Disable Background Refresh for Safari: Safari's Background App Refresh can consume valuable resources, impacting your device's performance. To disable it, open Settings > Safari > Background App Refresh and toggle it off.

Reduce Transparency and Motion: Customizing the visual effects on your iPhone can enhance performance. By going to Settings > Accessibility > Display & Text Size > Reduce Transparency and toggling it on, you can reduce the graphical load on your device.
Unleash the Power of Your iPhone with These Must-Have iOS Settings
Disable Automatic App Updates: App updates can be a necessary evil, but they can also drain your battery and slow down your device. To disable automatic updates, go to Settings > App Store > App Downloads and toggle off the "App Updates" option.

Reset Network Settings: If you're experiencing connectivity issues or your iPhone feels sluggish when connected to the internet, resetting network settings can help resolve the problem. Head to Settings > General > Reset > Reset Network Settings and confirm your action.
Achieve Peak Performance with These iOS Settings ===
By implementing these 10 essential iOS settings, you can breathe new life into your iPhone and experience the performance it was designed to deliver. Remember, maintaining your device's health is an ongoing process, so revisit these settings periodically to ensure optimal performance. With a little effort and the right settings, you can unleash the full potential of your iPhone and enjoy a fast and seamless user experience.