In today's fast-paced world, multitasking has become an essential skill for boosting productivity. And if you own an iPad, you're in luck! Apple has introduced two powerful features, Split View and Slide Over, that allow you to seamlessly multitask on your iPad. Whether you're a student, a professional, or a creative individual, mastering these multitasking features will take your productivity to new heights. So let's dive in and learn how to unleash the power of Split View and Slide Over on your iPad.
Boost Your Productivity with iPad Multitasking Features
Multitasking has always been a challenge on mobile devices, but Apple's iPad has revolutionized the game. With Split View and Slide Over, you can effortlessly juggle multiple apps and tasks simultaneously, streamlining your workflow and boosting your overall productivity. No longer do you have to switch back and forth between apps, losing focus and wasting valuable time.
With Split View, you can divide your iPad's screen into two separate app windows. This feature is particularly useful when you need to reference information from one app while working on another. For example, you can have your notes app open on one side while having Safari open on the other to conduct research or take notes during a video conference.
Slide Over takes multitasking a step further by allowing you to quickly access a secondary app without interrupting what you're currently working on. This feature is perfect for quick tasks like replying to messages or checking your calendar while still being able to view and interact with your primary app. Slide Over appears as a floating window that can be easily dismissed when you're done.
Unleash the Power of Split View and Slide Over on Your iPad
To activate Split View, start by opening an app that supports the feature. Then, swipe up from the bottom of the screen to reveal the Dock. Tap and hold on the app you want to pair with the one already open, and drag it to the left or right side of the screen until it snaps into place. Adjust the divider between the two apps to customize the screen real estate for each. You can even resize the apps by dragging the divider left or right.
Slide Over can be accessed by swiping from the right edge of the screen towards the left. This will reveal a sidebar with a list of compatible apps. Simply tap and hold on the app you want to use, then drag it onto the screen. The app will appear as a floating window that you can position anywhere on the screen. To dismiss Slide Over, swipe the app off the screen to the right.
Both Split View and Slide Over can be used with a wide range of apps, including Apple's native apps such as Mail, Safari, and Notes, as well as third-party apps that have been optimized for multitasking. To check if an app supports these features, simply long-press on its icon on the Home screen and look for the options available in the context menu.
By mastering Split View and Slide Over on your iPad, you'll be able to seamlessly switch between tasks, reference information, take notes, and stay organized without missing a beat. These multitasking features are designed to empower you to do more in less time, allowing you to achieve your goals and unleash your true potential.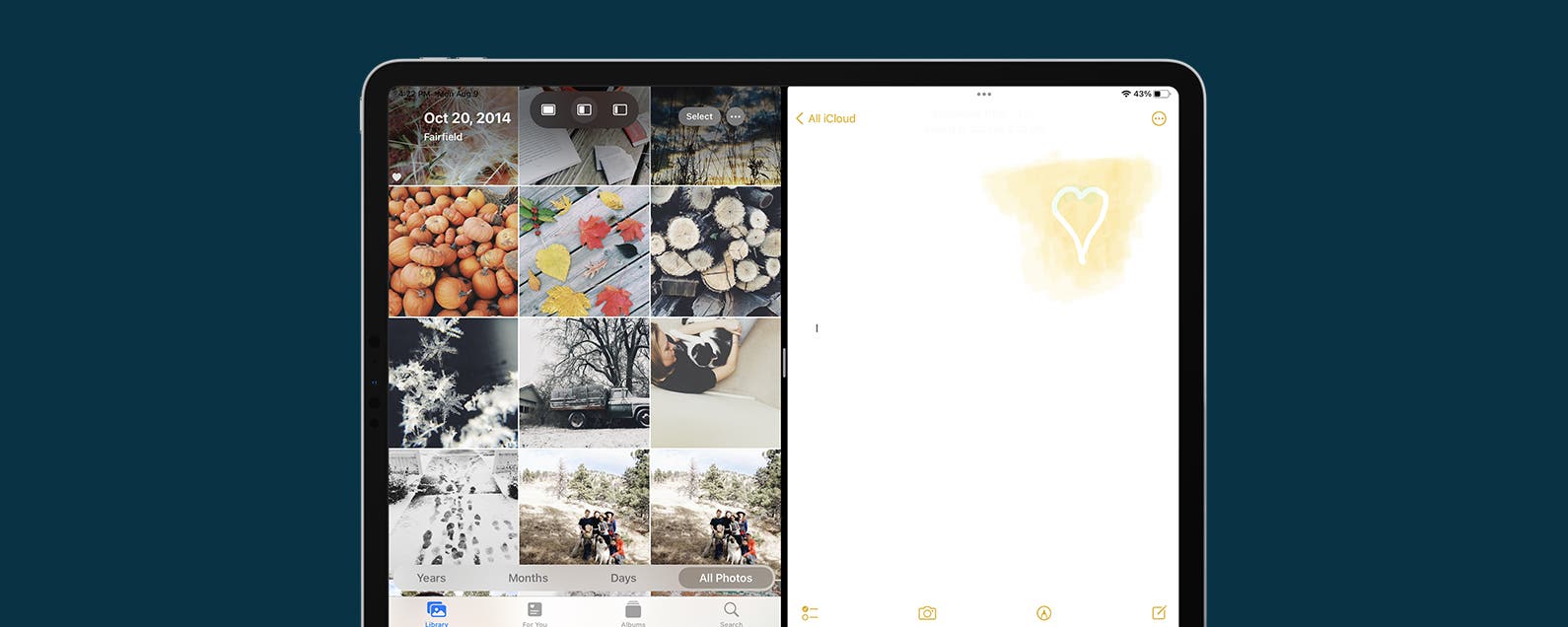 Open an app Tap the Multitasking button at the top of the screen Tap the Split View button or the Slide Over button The current app moves aside and your Home Screen appears Tap a second app on your Home Screen Swipe left or right to see apps on your other Home Screen pages You can also tap an app in your DockMastering iPad Multitasking with Split View and Slide Over Tech Craft 84K subscribers Subscribe 130K views 3 years ago ipadpro ipados Multitasking on iPad just got a whole lot betterSplit View on the iPad is a powerful multitasking feature that lets you use two supported apps on the screen at the same time Still it can be confusing to figure out how it works and mastering it takes practice Here39s how to use it What Is Split ViewMastering iPad multitasking will improve your iPad
productivity levels as you use apps in tandem and switch from one task to another We39ll go Over how to use iPad and iPad Pro multitasking features and functions including Split View Split Screen Slide Over and PictureinPicture Drag and Drop and iPad multitasking gesturesWhat Is Slide Over Slide Over is a way to multitask on the iPad It displays a primary app in fullscreen mode and secondary app in a small floating window on the left or right side of the screenHit the Multitasking menu at the top of the app and tap the Split View second option This will move the current app aside and reveal the Home screen and the Dock Open the second app you want Using iPad Multitasking can help turn your iPad into a laptop replacement or the ultimate content consumption device or both so it39s well
worth getting to grips with these features We39re here to show you how How does Multitasking work on iPad Ipados 15 Multitasking Shelf Image credit AppleSplit View multitaskingor splitscreen as youll often hear it calledis probably the most common means of multitasking on the iPad as it allows you to view two apps sidebyside
So why limit yourself to single-tasking on your iPad when you can unlock its true multitasking potential? With Split View and Slide Over, you can take control of your workflow and accomplish more than ever before. Embrace the power of multitasking, and watch your productivity soar to new heights. Get ready to maximize your capabilities and make the most of your iPad's incredible features. The only limit is your imagination!