In today's fast-paced world, staying productive on the go has become crucial for professionals. With the rise of tablets like the iPad, productivity apps have become an essential tool for boosting efficiency. These apps offer a wide range of features and functionalities that can help streamline tasks and maximize output. Whether you are a student, freelancer, or a business professional, these iPad productivity apps can revolutionize the way you work. Let's explore how these apps can take your productivity to the next level.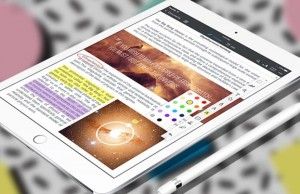 Increase Your Productivity with These iPad Apps
Notability: This app combines the power of note-taking and annotation. It allows you to jot down ideas, annotate documents, and even record audio during meetings or lectures. Notability also provides the ability to sync your notes across devices, making it easy to access your important information anytime, anywhere.

Trello: Trello is a project management app that helps you stay organized and collaborate effectively. Its intuitive interface allows you to create boards, lists, and cards to track your tasks and deadlines. With Trello, you can easily assign tasks to team members, add due dates, and monitor progress, ensuring everyone stays on the same page.

Evernote: Evernote is a versatile app that lets you capture ideas, create to-do lists, and organize your thoughts. With its powerful search functionality, you can quickly find any information you need, whether it's a handwritten note, a scanned document, or a web clipping. Evernote also offers seamless integration with other apps, making it a powerful tool for boosting productivity.

Microsoft Office Suite: The iPad version of Microsoft Office Suite (Word, Excel, and PowerPoint) allows you to create and edit documents, spreadsheets, and presentations on the go. With its familiar interface and robust features, you can work on your files seamlessly and collaborate with others, ensuring you never miss a beat.
Take Your Efficiency to the Next Level on the Go
Scanner Pro: Scanner Pro turns your iPad into a portable scanner, allowing you to digitize documents, receipts, and business cards with ease. It automatically detects the edges of the document, corrects the perspective, and enhances the image quality. You can then save the scanned documents as PDFs or images and share them via email or cloud storage services.

Pocket: With Pocket, you can save articles, videos, and webpages for later viewing. This app eliminates distractions by allowing you to curate your reading list and access it offline. Pocket also offers a clean and clutter-free reading experience, making it easier to focus on the content and boost your efficiency.

Grammarly: Grammarly is a writing assistant that helps you write with confidence. Whether you are composing an email, writing a blog post, or working on a project, Grammarly detects grammar, spelling, and punctuation errors, and suggests improvements. With its seamless integration across various apps, you can ensure your written communication is polished and error-free, even on the go.

Forest: Forest is a unique productivity app that helps you stay focused and avoid distractions. It uses the concept of gamification to encourage productivity. You set a timer for a particular task, and during that time, a virtual tree grows. If you leave the app, the tree dies. This app not only helps you stay productive but also allows you to contribute to a real-world tree planting initiative.
Boost Your Work Efficiency Anywhere with These iPad Apps
Slack: Slack is a team communication app that allows you to collaborate and communicate in real-time. With its intuitive interface, you can create channels for different teams or projects, share files, and have threaded conversations. Slack also integrates with other productivity apps, bringing all your work-related communication in one place.

Google Drive: Google Drive is a cloud storage and file-sharing app that offers seamless integration with other Google apps like Docs, Sheets, and Slides. With its collaboration features, you can work on documents simultaneously with your team members, ensuring everyone has access to the latest version. Google Drive also provides offline access, allowing you to work even without an internet connection.

Asana: Asana is a project management and task tracking app that helps you stay on top of your work. With its user-friendly interface, you can create tasks, assign them to team members, set due dates, and track progress. Asana also offers a visual timeline view, allowing you to see how your tasks fit into the overall project timeline.

Pocket Casts: For professionals who like to learn on the go, Pocket Casts is a podcast app that brings together all your favorite podcasts in one place. You can subscribe to your favorite shows, download episodes for offline listening, and create custom playlists. Pocket Casts also offers smart features like variable playback speed, trim silence, and episode filters, making your listening experience more efficient.

Even though it took nearly a decade for the iPad to get its own operating system the key to using an iPad as a work computer has always been apps And especially for students there are soThe iPad has differentiated itself from the iPhone so much that there now needs to be a separate version of iOS for it appropriately dubbed iPadOS But it39s not just the operating system itself that helps you become more productive with your iPad it39s the apps2 Task Management Apps 3 NoteTaking Apps 4 File Organization and Cloud Storage Apps 5 Communication and Collaboration Apps 6 Time Management Apps 7 Conclusion Discover the best iPad productivity apps that will supercharge your efficiency and organizationPages Keynote and Numbers form a robust office suite for documents presentations and spreadsheets

on your iPad The builtin Mail and Calendar apps sync with G Suite Office 365 and moreand include keyboard shortcuts like their desktop counterparts iMovie and GarageBand are handy for more creative workThe 129inch iPad Pro To boost productivity check out the iPad Pro There39s a big difference between the iPad Pro and the iPad Air or iPad line The iPad Pro rivals most laptops in terms of processing power it doubles the RAM found in other iPads and it has the most advanced display of any iPad including support for widegamut colors24me iOS Free Image credit 24me 24me is a smart virtual assistant app that helps you make sense of your business day and appointments by combining calendar features a todolist and note 10 iPad Apps Boost Your 2023 Productivity August 2023 MKS 10 iPad Apps Boost

Your 2023 Productivity Apps By Alishba Rajput In todays highspeed world productivity is paramount for success The right tools are needed to optimize work maintain organization and boost productivityTrello Trello is a project management app that uses a visual and intuitive interface called boards to help you organize and prioritize tasks You can create boards for different projects or cateGories and add cards to represent individual tasks Cards can be moved across different lists representing progress or status changes
Embracing productivity apps on your iPad can be a game-changer for boosting your efficiency and staying productive on the go. Whether it's note-taking, project management, or file organization, these apps simplify tasks and help you accomplish more in less time. So, why not take advantage of these incredible tools and unleash your full potential? With these iPad productivity apps, you can take your work efficiency to new heights and achieve your goals with ease.